Miriam Andersén
Voice, Harp, Scandinavian Cowhorn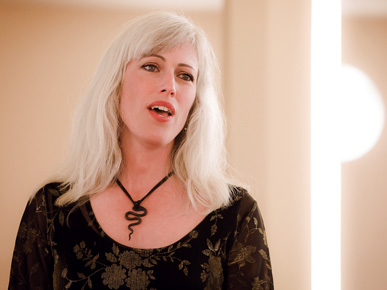 An expert on Swedish traditional music
and its medieval roots,
Miriam Anderséns repertoire
encompasses a wide spectrum of genres,
from Gregorian chant
to contemporary music.
Biography
Miriam Andersén, born in Sweden, studied singing, medieval harp, medieval notation and performance practice
at the Schola Cantorum Basiliensis in Switzerland.
Since then she has been a busy performer. She is in demand as a sublime interpreter of all medieval music styles,
with the Gothic harp as a complement to her voice, but her repertoire also includes lute songs, baroque arias,
and more modern names like Erik Satie, John Cage, Steve Reich and Sven-Erik Werner.
She became a member of Sarband in 1999. Apart from her own ensembles Belladonna and The Early Folkband,
she also performs with Theatre of Voices, with whom she did the first performance of «The Little Match Girl Passion»
by David Lang in 2007 in the Carnegie Hall and subsequently won a Grammy in 2010.
Concert tours have brought Miriam Andersén around the globe and she has recorded over twenty CDs
with ensembles such as Sarband, Esk, Ferrara Ensemble, Ensemble Gilles Binchois, Alba and Belladonna.
She has also participated in several stage productions in Sweden (Mellby Scenkonst, Teater Nostra), Germany
(Maxim Gorki Theater/Hebbel Theater), Switzerland (Theater Basel), Austria and Belgium (Toneelhuis, Eastman).
Her love for Swedish folk music has lead to projects and CD recordings of traditional hymns, ballads and skaldic poetry,
and not least to an intense relationship with the cowhorn. In 2007 she was awarded Anders Zorn's silver badge
for her cowhorn playing, along with the title riksspelman, which she shares with some of Sweden's
finest performers of traditional music.
Reviews
«Ensemble Sarband demonstrated impressively, how beautiful music from times gone by can be…
Under the title «Vox Feminae», the wonderful voices of Miriam Andersén and Fadia el-Hage sounded in the church …
a concert, which many will remember for a long time, as the applause made very obvious.»
Dorit Schlemermeyer, Weser-Kurier (Germany), 19.03.2012
«Understanding unnecessary: goosebump-inducing voices suffice! Enthralled their audience: Sarband!
The two brilliant soloists Miriam Andersén and Fadia el-Hage sing in Aramaic …
as well as in their respective native languages. Their powerful and emotional renditions comprise songs from the early
Christian Oriental repertoire, plainchant by Hildegard von Bingen and Birgitta of Sweden, spiritual songs from rural Sweden
and pieces from the 13th-century Codex Las Huelgas. Although hardly anybody in the audience understood the pieces'
contents, the excellent singers presented an enchanting, even affecting concert … In the end, the applause was incessant…
A very successful performance with great acoustics in the beautiful atmosphere of the church.»
Pia Zarsteck, Kreiszeitung (Germany) , 19.03.2012
«This kind of music has not been heard here before. The show was already intriguing because of the authenticity
of performers and performance. … Two brilliant soloists stood in the centre: The Swede Miriam Andersén,
an almost mythical appearance, tall, slender with white-blonde long hair and a crystal clear soprano voice with dark timbre …
At the end, the audience remained in almost reverent awe, which then erupted into persistent applause for the musicians.» Hans-Dieter Speck, Mitteldeutsche Zeitung (Germany), 20.06.2010
«Miriam Andersén, as Miss Faerie with her magical bell-like soprano … interpreted the notion «modestly and hauntingly»
in a most beautiful way.» Michael Tschida, Kleine Zeitung (Austria), 31.01.2010
«Sensational live music: Fadia el-Hage's voice emerging from the innermost, and the crystal clear voice of Swedish singer
Miriam Andersén …» 
Silvia Nagl, OÖNachrichten (Austria), 10.03.2008
«Singer and harp player Miriam Andersén's splendidly flowing voice was enchanting as ever.»
Sabine Fauland, Kronen Zeitung (Austria), 24.03.2005
«Miriam Andersén - also on harp - almost supernaturally dominated the performance with her mystically dark
yet radiant voice that pervaded the hall like ocean surf, exultant but tearing everything with it …
A delicious and, above all, relaxing evening!» Sabine Fauland, Kronen Zeitung (Austria), 22.06.2004
«… Miriam Andersén's crystal clear soprano perfected the gothic atmosphere.» 

Klaus Winterberg, Leverkusener Anzeiger (Germany), 20.02.2003